The St. Andrew Daily Missal
By Dom Gaspar Lefebvre O.S.B.
Back in Print, by popular demand!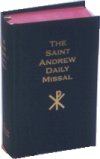 "There is only one fully traditional Latin-English handmissal in print for laypeople. This is Dom Gaspar Lefebvre's [not to be confused with Archbishop Marcel Lefebvre] edition of The Saint Andrew Daily Missal with Vespers for Sundays and Feasts and Kyriale. It is the most complete traditional missal in print."
As quoted from one of the most widely read traditional Catholic web sites.

$68.00
Now Shipping!.
Click Here to go to our online store and order your St. Andrew!